Peppermint Rose Lip Gloss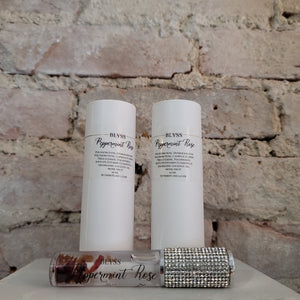 Peppermint Rose Lip Gloss
Regular price
Sale price
$11.99
Our Peppermint Rosé gloss is the perfect gloss for shine, moisture and a little bit of plump. The sleek tube makes it the perfect on the go gloss for any occasion.
The Peppermint essential oil provides a cooling sensation that provides moisture and plumping. Beyond that peppermint essential oils provide relief for many issues like headaches and sinus issues. While our infusion of the dried Rose Petals, and Rose essential oil includes a plethora of vitamins and minerals that are good for the skin.
Ingredients: Mineral Oil (and) Ethylene/Proptlene/Styrene Copolymer (and) Butylene/Ethylene/Styrene Copolymer, Essential Oils, Dried Rose Petals. 
Purchase includes 1 rhinestone studded 5 ml lip oil packaged in a white paper tube. 
Our lip gloss and oil products are available in bulk for wholesale purchases, labeled or unlabeled. Please email us at blyssbotanica@gmail.com for more information.
Similar products
Customers who viewed this item also viewed