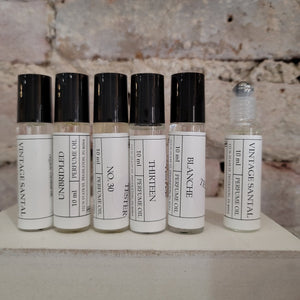 Regular price
Sale price
$14.99
The actual perfume elements and extracts in oil fragrances are far more concentrated than those in standard alcohol-based eau de toilettes and perfumes, which contain only a small amount of true fragrance diluted with alcohol and other fillers. Oils tend to "stick" to the skin and linger, whereas many standard perfumes are actually better applied to clothing for longer wear as fabrics give them something to cling to.
Try one of our amazing scents today!
1-10ml roll on bottle with box
Midnight Kiss-A sophisticated, irresistible blend of warm vanilla bean, black raspberry, sweet sugar and rose petals.
Night Flower-A bold, beautiful accord inspired by the mesmerizing queen of the night flower. Highlighted by notes of black plum, tempting white jasmine, and spicy ylang ylang on a base of dark woods and musk.
Laila-Notes of Norwegian mountain wildflower, lavender, and ozone. This gorgeous sheer, ozonic floral is light, subtly sweet and perfect for spring and summer! 
Tuberose-This heady fragrance includes notes of Tuberose, orange flower, jasmine, orris, benzoin and sea air. 
Similar products
Customers who viewed this item also viewed