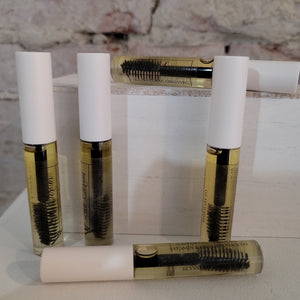 Regular price
Sale price
$12.99
Packed with conditioning and hydrating Castor Oil, Argan Oil, and Vitamin E Oil, this eyelash & brow growth serum will help promote the appearance of longer, fuller looking lashes and brows without the use of irritating or harmful ingredients
How To Use:
Each night, brush lashes with growth serum to clean, dry eyelashes. Gently apply to the upper and lower lash lines, at the root. 
For brows, smooth over entire eye brow with clean finger or brush. 
10 ml Bottle with brush
Ingredients
Castor Oil- moisturizes your eyelashes and can make them appear thicker and look like they have more luster,
Argan Oil-all-natural element that can help to strengthen, thicken and lengthen your lashes 
Vitamin E Oil- acts as a conditioner to help your lashes grow strong and healthy,
Lavender Essential Oil-can potentially help your eyelashes to grow thicker and faster. In addition, it has antimicrobial properties which help prevent itchiness and infections.
 Rosemary Essential Oil- well known for stimulating hair growth. It strengthens and improves circulation and as a result, prevents hair follicles from being starved of blood supply and dying off.
Similar products
Customers who viewed this item also viewed